Buckley Roofing's sheet metal division provides custom sheet metal fabrication for building owners, general contractors, and mechanical contractors. Our capabilities include designing and fabricating wall panels, standing seam metal roof panels, sheet metal trim, ridge caps, flashings, and custom parts for almost any type of project.
We serve commercial, industrial, manufacturing, education, and retail markets. Our sheet metal division specializes in steel, stainless steel, aluminum, copper, brass, and galvanized sheet metal work with 14 gauge and lighter material.
From flat sheet to steel plate, we have the equipment to shear, brake, roll, notch, and assemble everything needed to produce custom metal goods of practically any shape or size.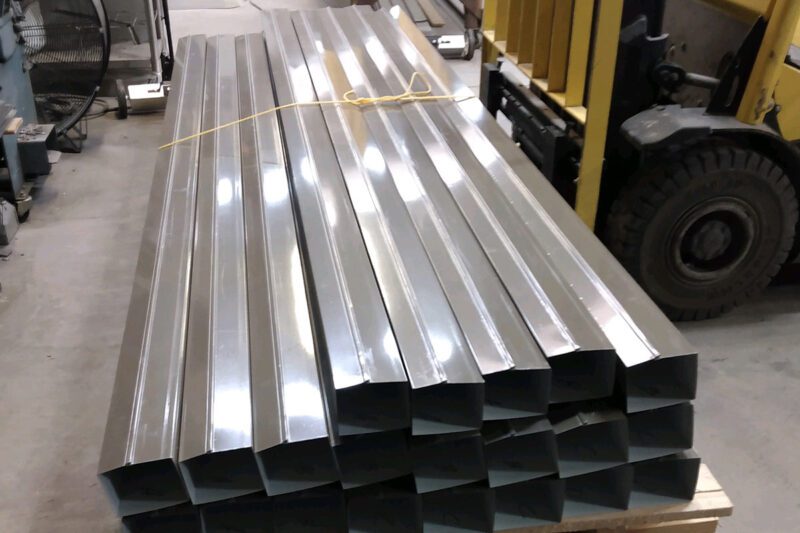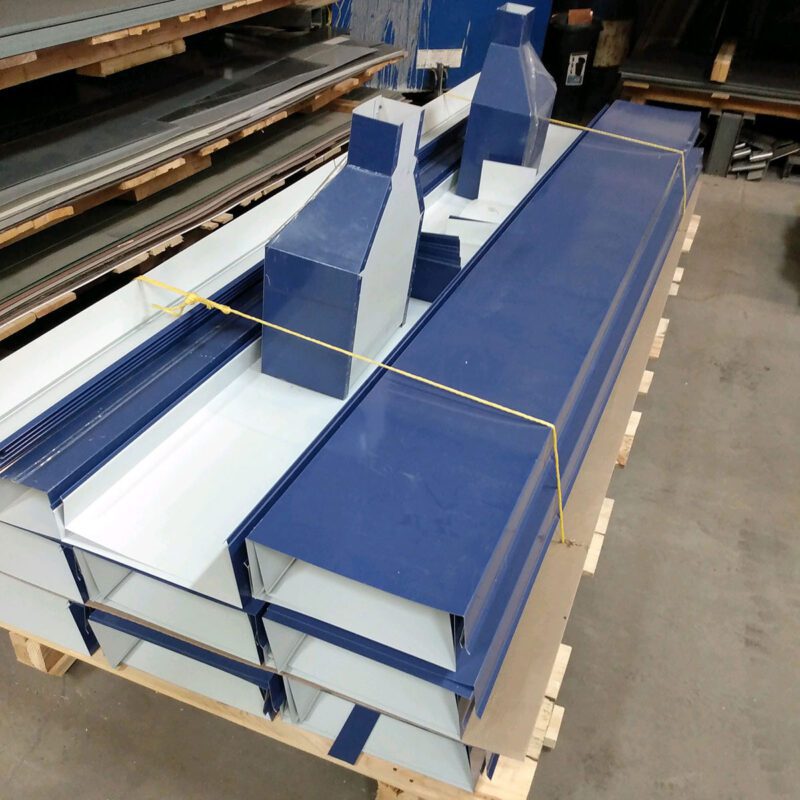 Materials We Fabricate With
Steel
Stainless steel
Aluminum
Copper
Brass
Galvanized sheet metal (14 gauge and lighter)
Our team will help architects, building owners, general contractors, and mechanical contractors with materials selection to provide the best application for your building's usage, location, and style. Pre-planning is very important before our crews are onsite, and we work closely with the building owner, general contractor, or mechanical contractors on scheduling in order to be the most efficient with our installation time.
Each of our projects are custom designed for what the building owner or general contractor needs or wants. We have the ability to custom fabricate materials to fit each project's requirements. No two jobs are the same, which makes our work fun and rewarding. If you need something designed and built, our team is happy to customize your sheet metal solution.
Testimonial
I have learned a lot about the roofing industry from Buckley Roofing throughout my career. We have worked with them many years on many different types of projects, and they are a top tier roofing contractor. They deliver a quality product that we don't ever have to worry about. When dealing with contractors and owners, they are ethical, honest, and trustworthy. I will continue working with Buckley Roofing and would highly recommend them.
Drip Edge
Coping Cap
Flashing
Scupper
Gutters and Downspouts
Sawcut Reglet
Surface Mount Reglet
Clips
Coils
Flat Sheets
Sealants
Insulation
Other Trims Fabricated to SMACNA Standards
We can create anything you can dream up.
After we have designed and fabricated your custom sheet metal project, our crew will install the product onsite. This gives you a one-stop shop for your sheet metal installation. Working closely with the general contractor or building owner, our crew will communicate and meet project specifications and requests.